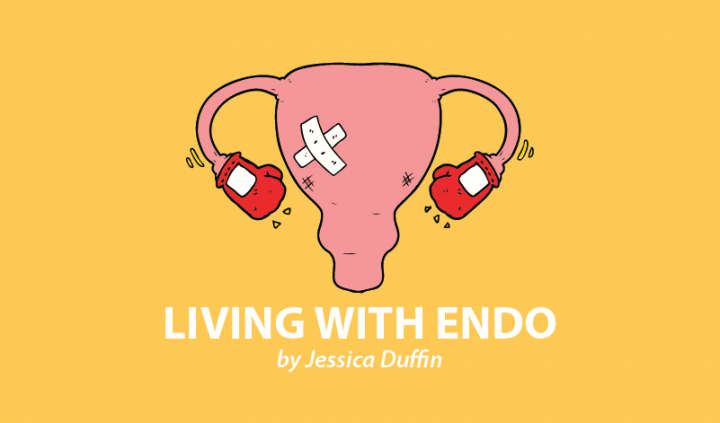 Last year, I wrote about my experience with rapid transformational therapy for endometriosis and stress. I had promised to return to this subject and explain how I felt in the months following the treatment, but I wanted to give myself more time to see how long the results would last.
I wasn't contacted for my follow-up session (recommended after the first 21 days) for a few months. I had been waiting for this final session so I could write up a full review of my experience, but I've decided not to go ahead with the same therapist, and I am booked to work with a different therapist next month.
Many of you have asked me about the results from my session. So, I have written about the key changes I experienced and what I hope to work on moving forward.
Pain
I wrote about the period I had following my session here. To recap: It was one of the best periods I've ever had. I had started my period without realizing, which — as anyone with painful endometriosis knows — is rare.
I thought that starting without pain was too good to be true. I began my usual ritual of taking a magnesium supplement, using a magnesium spray on my abdomen, and sticking on a TENS machine. I braced myself and waited for it to begin. It didn't. I went the entire period without any pain, except for two occasions when I had twinges that stopped when I took paracetamol.
Since then, I've continued to have good periods bar one or two (the result of eating too many of my trigger food groups). I can quite honestly say this has been the best year for my endometriosis symptoms since my condition relapsed five years ago.
Anxiety
My anxiety still needs the most work. I felt really calm and relaxed throughout December, January, and February — more relaxed than I had felt in years. But over time, the anxiety crept back in, and I'm once again living with a high level of it. If I had gone ahead with another session, perhaps I would have gotten it more fully under control, so I'm prepared to visit a new hypnotherapist and work on this going forward.
Depression
In the days after my session, I felt noticeably lighter. My depression has been like a heavy cloak of fear resting on my shoulders for my entire life. Sometimes I get used to carrying it around and don't feel it so much. At other times it feels so heavy that I fear my knees will buckle under the weight. While depression hasn't disappeared completely, the severity of my symptoms has reduced. Recently, I have felt myself struggling a bit more, but this can only be expected under our current circumstances. I have felt more positive about the future in general, and much clearer about the steps I need to take to feel the way I want to feel and to live the way I want to live. This year, I've been able to move forward quickly, and with a proactive attitude.
However, I would really like to move into a place of living with joy and excitement, rather than just "not living with depression." Given the results I had from one session, I think it could help to have another.
Fatigue and burnout
This is a complicated one as I've been actively working on my fatigue this year, so I'm sure that my diet changes have helped significantly. However, immediately following my session, my approach to working and my general lifestyle changed. I became more interested in living sustainably, avoiding burnout, and moving in rhythms and cycles of action and rest, rather than pushing forward at a relentless pace. This effect has worn off over time, and I'm now back to reminding myself to find balance.
Conclusion
Rapid transformational therapy changed me. While it didn't bring the results promised, I had positive results from one session, and I do believe a course of sessions or perhaps revisiting over time could bring sustained change.
***
Note: Endometriosis News is strictly a news and information website about the disease. It does not provide medical advice, diagnosis, or treatment. This content is not intended to be a substitute for professional medical advice, diagnosis, or treatment. Always seek the advice of your physician or other qualified health provider with any questions you may have regarding a medical condition. Never disregard professional medical advice or delay in seeking it because of something you have read on this website. The opinions expressed in this column are not those of Endometriosis News or its parent company, BioNews Services, and are intended to spark discussion about issues pertaining to endometriosis.