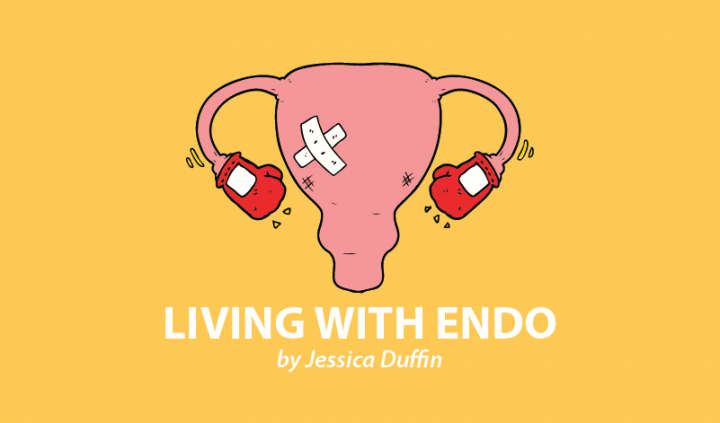 In January, I expressed my bitter disappointment in having my painful periods return after an amazing pain-free period in December. If you read the column, you can see it's a bit of a no-brainer as to why the pain came back, but what I haven't gotten around to explaining is why the pain disappeared the month before.
Finally, after experimenting and reflecting, I've pulled together some of the strategies I used then and in the past for the most pain-free period I've ever had (post-endo).
Removing stimulants
In November and December, I was incredibly strict with the endo diet because I was on a vacation just as I was due, and I really didn't want the trip to be spoiled. I'd come to realize how majorly affected I was if I let even one coffee past my lips just before my period — it would essentially ruin all my hard work. I also had the same issue with sugar, so I avoided both of these (including decaf coffee, which is what I will occasionally drink) solidly during the month leading up to this period.
If this sounds too much, then my advice would be to cut out your worse triggers seven to 10 days before your period. A great coffee replacement I found is Prewetts Organic Chicory. Chicory supports the liver, which is needed for removing excess estrogen, so that's a bonus! I've found that if I do this, I can quite significantly reduce my pain levels, even if I haven't quite stuck to the endo diet in the weeks before!
Relaxation
An aspect that was significantly different around this time is that I'd blocked most of December out for holidays. I wasn't stressed about having to work over my period, and I wasn't anxious about what to do if I was too ill to work. In the past, I've headed into my period with gritted teeth, and have come out the other side exhausted. In December, I was treated by a friend to a night at a farmhouse in the countryside and I still had two more trips to look forward to upon my return. I could feel my body unwinding.
Creating some luxury around your period, or at least trying to move some meetings out of the way for day one, can help your body release tension. Giving myself the chance to slow down and actually feel happy and stress-free was a huge help in experiencing a different type of period.
Supplements
I think this was the cherry on top. I've been experimenting with the endometriosis diet for years but hadn't fully cracked the code for having a really good period. The periods were reducing in pain and becoming more manageable, but all it took was one slip up to take me backward. Taking magnesium daily seems to have kept my cramp levels down, but the pain was still there.
In November through December, I tried a turmeric supplement. Inflammation leads to higher levels of pain, and women with endometriosis generally already have increased inflammation levels as the body is fighting a chronic disease. Turmeric is a natural anti-inflammatory, and I've used it in the past in drinks and teas, but there's only so much turmeric you can have in one day (my nails were starting to go yellow from all the handling!). I began taking the Genessence Turmeric and Ginger herbal supplement that contains piperine, a compound that helps curcumin (the active ingredient in turmeric) become more bioavailable. I have since tried not taking turmeric supplements versus taking turmeric supplements, while following all the above suggestions. When I do not take the supplement, my pain levels are always higher around my period.
After this experience, I've since spoken to other endometriosis patients who use diet and lifestyle changes to help manage endometriosis (including Jessica Murnane), and many find turmeric supplements have been game changers.
Therapy
In November, I underwent rapid transformational therapy. Immediately, I felt lighter, less stressed, and like I had begun dealing with some past trauma that always brought me unhappiness. I've had lots of therapy in the past, including psychotherapy and cognitive behavioral therapy, but they increase my stress levels as I work through issues. Because hypnosis puts me into a very relaxed state, I felt calm and much more positive about the work we were doing. While I can't prove this affected my endometriosis, I do feel like it has a huge effect on my stress levels, and in turn, helps my physical well-being.
***
Note: Endometriosis News is strictly a news and information website about the disease. It does not provide medical advice, diagnosis, or treatment. This content is not intended to be a substitute for professional medical advice, diagnosis, or treatment. Always seek the advice of your physician or other qualified health provider with any questions you may have regarding a medical condition. Never disregard professional medical advice or delay in seeking it because of something you have read on this website. The opinions expressed in this column are not those of Endometriosis News or its parent company, BioNews Services, and are intended to spark discussion about issues pertaining to endometriosis.