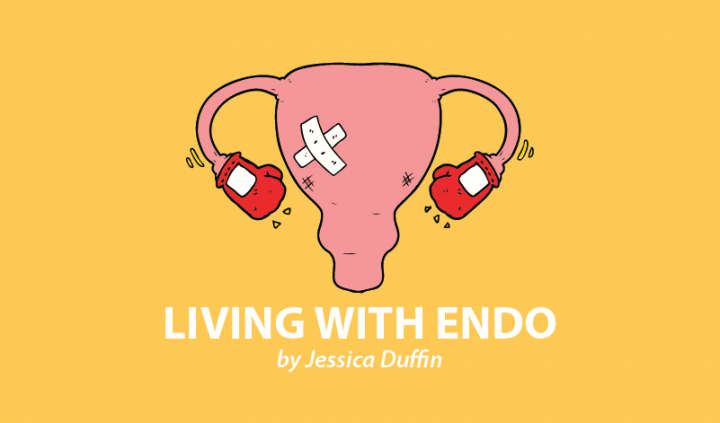 If I'm honest, most of the time it feels like my relationship with my partner revolves around my health and me. He picks up all the pieces I cannot manage, and while I do control my endometriosis well, the fact that I am an ambitious person with her own business means that I'm already stretched for time and energy. Most freelancers and new business owners have buckets of energy and can burn the midnight candle. I cannot do this, so everything I have goes into my work and keeping healthy.
Our circumstances are changing, requiring me to step up for perhaps the first time in our relationship. Without giving too much away, my partner is going through an incredibly difficult family situation that is expected to continue for some time, possibly even years. The circumstances mean that not only is he affected emotionally, but also physically, as he is now doing a lot of traveling to support his family on a weekly basis. We are separated for days, and I can't see an end in sight to this for the foreseeable future.
Now he's in a position where he needs support, and yet my situation hasn't changed at all. I still need the same level of support as before, and though I try to be more on top of things, it's a struggle doing it alone. For the first few weeks, I was racked with constant guilt that I couldn't keep on top of household tasks while he was away. I was drained and didn't always have the energy I wanted to greet him with when he came home. My partner is an incredibly understanding person who listens to other people's problems but rarely shares his own. My skill is being a good communicator, yet because he doesn't want to talk, I cannot use the one thing I can give to help.
For a while, I was trying to force my communication upon him. Eventually, I saw this was a fruitless task, and fell back into helplessness. After a conversation with a friend, I realized I had to let go of the idea I had of being a "perfect" girlfriend in this situation. Instead, I resolved to do the best I can and accepted that this might change on a day-to-day basis because I cannot ignore how endometriosis affects me.
So, I've started trying to be resourceful about the things I can do that won't sacrifice my health. These include giving him extra affection and sending him messages of love and encouragement generally, and during times when I know things are tough.
I'm also being more flexible. I won't hide that I can be needy, and being alone for days at a time is hard. But if he needs to stay away another night, I'll support him. I'll still express that I miss him and may find it hard. I think it's better that I express my emotions to avoid feeling resentment. But I'll let him know that despite that, I fully support whatever he needs to do.
The same goes with time spent with friends. Now that we live away from London, he can only see friends when he goes up there, so if he plans to stay another night and catch up with them, I encourage it. Friendships are important, and they bring a different dynamic and sense of fun that I can't always bring, and he's going to need that in the coming months.
I'm also doing what I can to step up financially. We've always split everything, but time with his family has eaten into his work time, and because he's also freelance, he has no sick pay or compassionate leave to cover his loss of earnings. So, where I can, I am attempting to take the stress off our finances. While I can't cover all of our rent and bills alone, I can cover our social activities and other general expenses, so that we can keep some joy and activity in our lives without him stressing about the costs.
Another small thing I can do is treat him. He's a gift-giver, and it's one of his ways of showing love, so it's a language he can understand. I'm planning a special birthday for him, and I'm trying to treat him to things I know he'll appreciate.
Finally, I give him the time he needs alone while letting him know I'm there to talk, listen, or give cuddles when he needs it.
My last note on this is, your health is still important, and it's still OK to look after you as well.
***
Note: Endometriosis News is strictly a news and information website about the disease. It does not provide medical advice, diagnosis, or treatment. This content is not intended to be a substitute for professional medical advice, diagnosis, or treatment. Always seek the advice of your physician or other qualified health provider with any questions you may have regarding a medical condition. Never disregard professional medical advice or delay in seeking it because of something you have read on this website. The opinions expressed in this column are not those of Endometriosis News or its parent company, BioNews Services, and are intended to spark discussion about issues pertaining to endometriosis.