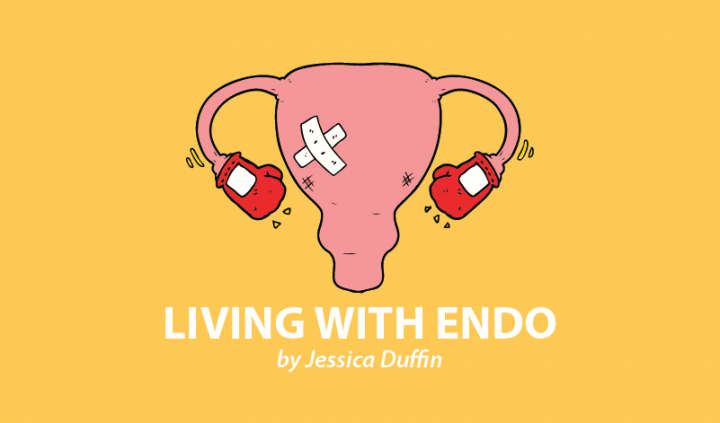 I've always been anxious. That was labeled as nervousness as a child, and I just accepted it as part of me, though it didn't ever get easier. Only when anxiety appeared on society's radar and it worsened for me with endometriosis did I realize something could be done about it. I realized that it wasn't just a fixed part of my personality.
Endometriosis has been linked to higher rates of anxiety, and it's no wonder. There are so many stress-inducing circumstances that endometriosis introduces, and having to face these challenges over and over again can create a baseline level of general anxiety — meaning that we're always in an anxious state at varying levels of intensity.
As I began to discover the links between my lifestyle, anxiety, and endometriosis, I made changes to lessen it. In the beginning, implementing these changes, such as looking for a new job, actually worsened my anxiety. But over the years, I've noticed patterns of times when my anxiety worsened, so I can now easily change some habits and see fast results.
I've written many columns about adding new habits and changes that improve endometriosis and the associated conditions such as anxiety, but today, I really want to focus on the things that I've actively avoided or reduced. This isn't about restriction, but I'd be doing you guys a disservice if I only talked about adding things in and left you clueless about the other things that made anxiety worse for me.
Sugar
You may notice that this list is similar to the list of triggers that worsen endometriosis pain. It's not a wonder, really. Researchers are finding more and more evidence that sugar leads to issues like chronic inflammation, which can lead to further health issues.
I found that before I really cut down on sugar, or perhaps if I've had a few days off the endo diet, I could get away with eating one or two sugary things in a 24-hour period. If I was ovulating, this wouldn't have too much of an impact on me. But if it was during my premenstrual phase, I could feel the difference in both pain and anxiety.
However, if I went through a phase of eating sugar every day, no matter where I was in my cycle, I would notice my anxiety creeping up until I'd hit a climax, which would result in a panic attack or a crying spell.
I've since learned this isn't in my imagination. Studies have shown that while high-sugar diets do not directly cause anxious feelings, they can worsen the symptoms of the condition and also make dealing with stress more challenging. This results in heightened anxiety.
Caffeine
Coffee has links to anxiety. Most people have experienced the coffee jitters before and know how horrible that feeling can be. However, not all of us realize the extent that caffeine can affect anxiety.
Caffeine is a stimulant, so it increases heart rates to make its user feel more alert. It also triggers the "flight or fight" response. For someone with anxiety, this could result in overreactions to everyday challenges or situations. Additionally, caffeine can cause other side effects that mirror or exaggerate feelings of anxiety, such as nausea, mood changes, agitation, and muscle twitches.
I can have a couple of caffeinated coffees a month (though never near my period) and feel reasonably OK, but I prefer to stick to decaf to keep my anxiety levels and endometriosis symptoms down. However, sometimes I can get caught up in my old caffeine addiction. I'll have a normal coffee on holiday, for example, because I can't get decaf. Then, I'll have another as a treat. Before I know it, I'm having two a day for the duration of the holidays. Even if I just have two normal coffees over the space of two days, I feel the increase in my anxiety symptoms, especially on my heart. I do still fall into this trap now and then, but at least I know what could happen so that I can cut back before those symptoms get too out of hand.
Staying indoors
I spend a lot of time working from home, which helps me manage my depression, anxiety, and endometriosis by allowing me to work toward my goals at my own pace. However, if I spend more than a day or two inside, I feel my anxiety increase. It seems evidence backs this up. Staying indoors has been associated with depression and anxiety while getting outside and in nature helps us manage stress and reduces the risk of anxiety and depression.
What makes anxiety worse for you? How can you manage it? Let me know in the comments.
***
Note: Endometriosis News is strictly a news and information website about the disease. It does not provide medical advice, diagnosis, or treatment. This content is not intended to be a substitute for professional medical advice, diagnosis, or treatment. Always seek the advice of your physician or other qualified health provider with any questions you may have regarding a medical condition. Never disregard professional medical advice or delay in seeking it because of something you have read on this website. The opinions expressed in this column are not those of Endometriosis News or its parent company, BioNews Services, and are intended to spark discussion about issues pertaining to endometriosis.