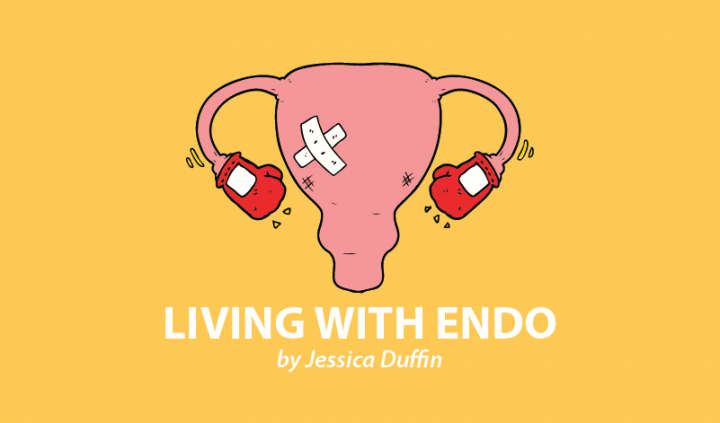 If you're on Instagram, your feed is likely full of reviews of 2018 and hopeful posts about 2019. Perhaps your friends and the accounts you follow are sharing their goals, their dreams, and the challenges they aim to overcome this year.
It seems to me like everyone is ready to dive into the deep end of 2019. The pace is fast, and the goals are big.
Anyone else feel overwhelmed by it all?
When we're living with endometriosis, our health goals often come before our life goals, our progress is slow, and there are many steps backward. And when we think about diving into the deep end, we worry that we'll drown.
Maybe this isn't you. Perhaps endometriosis isn't so severe that your life decisions are based around your condition. However, for many of us, it is like that. So, I'm here to tell you, you're not alone, and you don't have to jump into the new year like everyone else.
I have my own goals and dreams for the year ahead. But I'm no stranger to having to change them because of health setbacks. I no longer have countless doctor's appointments or need to take time out for surgery. But if I don't lead my life at a sustainable pace that's focused on my well-being, my health spirals downward quickly. So, every decision I make is calculated.
This isn't about throwing your dreams away; it's about making them sustainable. Business books, self-help tomes, and motivational leaders will tell you to keep your nose to the grindstone and hustle, hustle, hustle. I used to live that way. I was exhausted all the time, my endometriosis was flaring up like crazy, and I was depressed and anxious. Eventually, I realized that if I tried to keep up this pace, my life would no longer be enjoyable and my dreams and goals would suffer. I was setting myself up to fail.
I decided I would run This EndoLife at a manageable pace. What was the point of writing three blog posts a week, posting every day on social media, and pushing out podcasts if I was just desperate to get to the finish line?
Your life is made up of the seconds, minutes, and days you're living now. If you're feeling unhappy because you're so focused on achieving a goal, then that's how you're living your life.
Yes, hold onto your dreams and ambitions, but don't worry about the pace Jenny from accounts is going at; focus on the pace that feels good for you. Only then will it be sustainable and your dreams will feel achievable and enjoyable.
A great book for following your dreams and desires in a way that truly suits you is "The Desire Map." It's quite a lengthy book to work through when you do all the exercises, so I suggest you don't rush this and take your time to think about the activities.
Being open to change and flexibility is essential. Sometimes we set ourselves rigid goals and we feel like huge failures if we don't achieve them. I need to be flexible. When I was younger I realized I couldn't run a magazine because it exhausted me and made me ill and miserable. But today, I still get to write and be creative in a way that supports my happiness and health. I never imagined my life would revolve around writing for endometriosis, but I prefer this reality; it's about being open to change, looking for solutions, and focusing on how you want to feel in life, rather than on set goals.
Stay in your own lane. Focusing on how far other people are getting won't get you any closer to where you want to be. It'll just make you feel more insecure about your own journey.
Comparisons are a real issue in today's social media world, so it's useful to understand how comparing yourself with others can influence your dreams and emotions. Check out comparison coach Lucy Sheridan's work.
You're the one living your life. Only you can know what's going to make you happy. Take your time.
***
Note: Endometriosis News is strictly a news and information website about the disease. It does not provide medical advice, diagnosis, or treatment. This content is not intended to be a substitute for professional medical advice, diagnosis, or treatment. Always seek the advice of your physician or other qualified health provider with any questions you may have regarding a medical condition. Never disregard professional medical advice or delay in seeking it because of something you have read on this website. The opinions expressed in this column are not those of Endometriosis News or its parent company, BioNews Services, and are intended to spark discussion about issues pertaining to endometriosis.