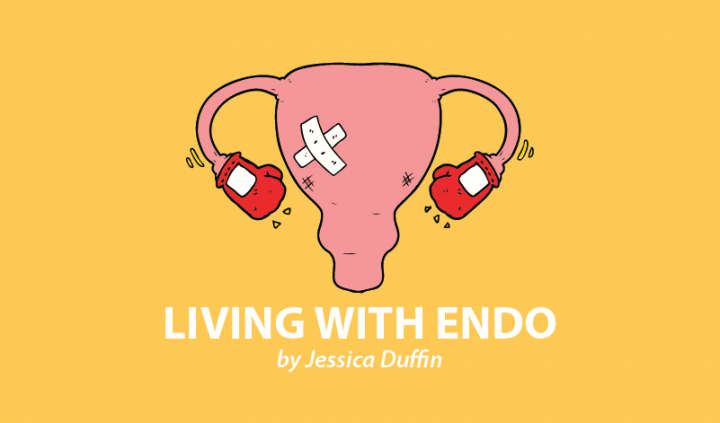 Tomorrow I'm heading off for a week's holiday. I had been anticipating my period to start while we're away, but luckily my period came early — which never happens — so the precautions I was taking no longer really apply. But that's not to say they won't be useful for you.
Start early
While I planned to take my endometriosis toolkit, I didn't want to have to rely on those tools or be in so much pain that I needed all of those painkillers.
Although I tend to follow an eating plan that avoids all my triggers, such as dairy, caffeine, sugar, and gluten, sometimes I'll be a bit lenient at "good" points during the month, such as pre-ovulation when I know my body feels great and can take a few coffees or sugary treats. However, the more I do this, the higher my pain is by the time my period comes – and that's fine, I make that choice. But a couple of coffees and sweet snacks aren't worth ruining my holiday for, so in the lead up to it, I've been really committing to feeding my body with foods it responds well to.
While all the supplements I take are to support my body with endometriosis, I've also been taking the new Endo Complex by Henrietta Norton (author of "Take Control of Your Endometriosis") and have stayed committed to my other supplements, too. I'm not a nutritionist so I can't offer specific advice, but I take magnesium to reduce cramps and improve my energy, omega-3 and turmeric to reduce inflammation, and a vitamin B complex to support hormone regulation and energy and to minimize brain fog.
Pack the essentials
We're only going away for six days, so we're just taking hand luggage, which means we have restrictions on what we can take. If you're going on a big trip and checking in luggage, this will be much less of a problem. But for this trip, I had to choose what's most important to take and what can be left behind — especially liquids.
Thankfully, I don't have to take all of my toolkit now because most of my period is behind me. Some of my most helpful tools are magnesium spray and an essential oil balm. Both of these take up space in the restricted liquid limit. So, instead of being precious about all the toiletries I use, I decided to leave a few nonessentials behind and buy small, cheap replacements at the airport. In an ideal world, I'd take everything. But what would I benefit more from: a pain-reducing balm or my specialist hair wax?
I also wanted to pack my supplements because they are pivotal in reducing my pain levels, so I called ahead to the airline to find out about the restrictions. I was told I either had to present a doctor's note explaining why I needed these or I had to check them in separately. Now that my period has already started, I can get away with not taking these with me. Make sure you call ahead to find out about any restrictions so that you don't have your painkillers, supplements, or other endo tools taken away from you by security.
Give yourself a rest day
I like to know the exact day my period is coming on, and usually, my apps don't fail me — with this month being an exception, of course. I use both MyFLO and Flutter to monitor my cycle, and had I not been early, I would have scheduled a day in for lazing at a nearby beach rather than bustling around trying to see all of the sights. If you're holidaying with lots of people, maybe suggest a beach or pool day, or if you have to, opt to take a few hours out of the itinerary. It might not be ideal, but it'll give you that important time to rest so you can be more energized for other days.
Be prepared
This goes without saying, I'm sure, but it's worth packing extra underwear, sanitary products, and endo-friendly clothing. The last thing you'll want when you're in pain and bloated is having to squeeze into tight denim hot pants.
Possibly the most important of all the prep is making sure you have medical insurance. If you're someone who tends to have endometriosis flare-ups that result in a trip to the emergency room, medical insurance is essential (and advisable for all of us)!
***
Note: Endometriosis News is strictly a news and information website about the disease. It does not provide medical advice, diagnosis, or treatment. This content is not intended to be a substitute for professional medical advice, diagnosis, or treatment. Always seek the advice of your physician or other qualified health provider with any questions you may have regarding a medical condition. Never disregard professional medical advice or delay in seeking it because of something you have read on this website. The opinions expressed in this column are not those of Endometriosis News or its parent company, BioNews Services, and are intended to spark discussion about issues pertaining to endometriosis.