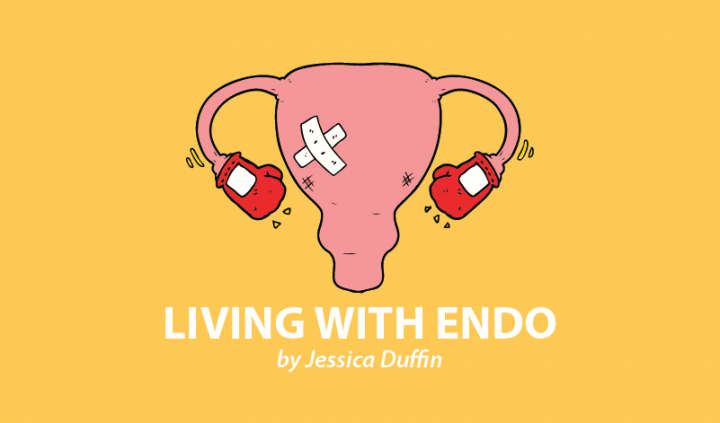 Last week, I wrote about how endometriosis healed my eating disorder, inspired a career in charity, and has led me on new adventures. Yes, endometriosis is hard, sometimes impossible to live with, but it has also opened many doors for me.
Endometriosis has developed my spirituality
Before I dive into this section, I'm not here to preach or convert; in fact, I'm not "religious" at all. I grew up with one side of my family being very Christian, and for reasons I won't go into, it just didn't sit right with me.
When I had a car accident at 17 and broke my spine, I spent a lot of time sitting in a hospital bed, unable to move from the neck down, thinking just how much I would love the world when I finally got out. When I put my feet on grass again, it was like the earth was full of magic — and I couldn't help thinking, "How was this not created by something bigger?"
I lost that beautiful connection some years later when I was in an abusive relationship.
Later, I rediscovered that connection when looking for alternative ways to heal my endometriosis. I was also seeking comfort and refuge from my depression and anxiety. I began developing some kind of relationship with the "universe" through books such as "The Universe Has Your Back" and "Conversations with God." I tried all forms of spiritual healing: crystal healing, reiki, various ceremonies, and classes on meditation. I'd attend talks on subjects such as the benefits of mindfulness and the psychology of happiness. Each one of these filled me up and took me closer to the essence of who I truly am, and at the core of that, was a deep and gentle peace.
Having a relationship with spirituality can help you deal with life's lessons. Each week, I tune into "The RobCast" and "Harry Potter and the Sacred Text," which both analyze life through the lens of religion and spirituality. I don't have to be religious to learn from these; they help me to develop my values, alter my perspective, and see the wonder of life.
This spiritual journey has reminded me that I am more than my body, more than endometriosis, and it has played a huge part in helping me cope with the depression, anxiety, and physical challenges of living with this disease.
Endometriosis has enriched my connection with others
I used to be quite a social creature, but as fatigue, depression, and anxiety took hold, I could no longer genuinely speak to others. My darkness was so great that I either had to have a fake conversation or I had to be honest. The latter made me feel worse because I worried about how negatively I was coming across. So, over the years, my circle has become smaller.
And yet, when I started "This EndoLife," my connection with others grew in new ways. I have people all over the world reach out to me and share their stories. I have lots of endo-friends in the U.S. whom I've never met in person. Through my podcast and workshops, I am part of a gorgeous spiritual and natural healing group of women across the U.K. Endometriosis has opened the door to a deeper connection and a more beautiful group of people than I could have ever imagined.
Endometriosis has given my life purpose
I come from a working-class family, where a job was more of a necessity than a career path. This made me determined to ensure I did something I loved. Of course, my careers in fashion and charity ended due to endometriosis, but there was a string that attached them both. I'd always wanted to do my own thing, and I wanted to work with people and be creative.
At college, my interest in psychology and sociology competed with my love of fashion and art. When I started at my first charity job, I had to write about what I wanted to do in five years time. I wrote that I wanted to have my own social enterprise that was creative and helped people, and was for a cause I felt strongly about. I spent a lot of time thinking about which cause I could dedicate my life to, and how I could make supporting people creative — and then my body gave me an answer. And "This EndoLife" was born!
***
Note: Endometriosis News is strictly a news and information website about the disease. It does not provide medical advice, diagnosis, or treatment. This content is not intended to be a substitute for professional medical advice, diagnosis, or treatment. Always seek the advice of your physician or other qualified health provider with any questions you may have regarding a medical condition. Never disregard professional medical advice or delay in seeking it because of something you have read on this website. The opinions expressed in this column are not those of Endometriosis News or its parent company, BioNews Services, and are intended to spark discussion about issues pertaining to endometriosis.