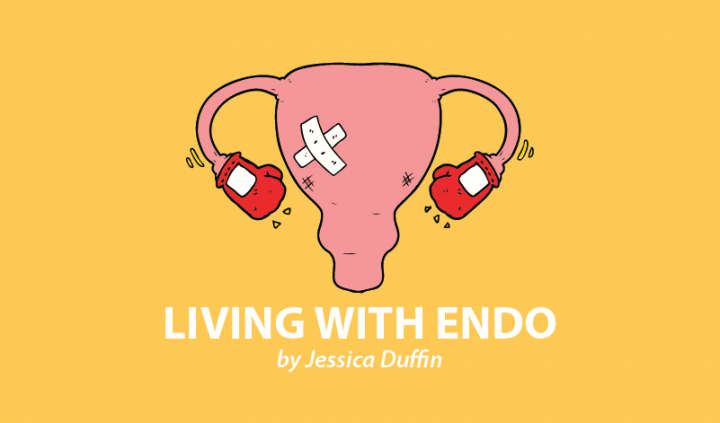 Endometriosis has changed my path in life, taken opportunities away, and caused me a great deal of suffering at times, but that's not what this two-part series is about. I want to focus on how endometriosis has changed my life for the better; how it has helped me to develop as a person; how it has persuaded me to walk down paths I might have otherwise ignored; and how it has created a life that I didn't expect, yet treasure deeply.
I understand if you're angry or in pain, and perhaps this isn't the time to read a series like this. But for anyone who is looking for hope or searching for stories of survival, I hope my account of the various ways endometriosis has changed my life for the better may help you to see there is life with — and after — this disease.
Endometriosis caused and healed my eating disorder
I remember being just age 10 or 11 when I was told to hold in my stomach. My bloating had not gone unnoticed, but no one seemed to think it was medically-related, so I grew up thinking it must be fat.
So, yes, my undiagnosed symptoms did trigger my eating disorder, but it was eating for endometriosis that led me to heal my relationship with food finally. When I realized how little surgery and conventional medicine were doing for me, I had to seek an alternative method of coping with endometriosis. I discovered the "endometriosis diet." Since then, I have learned how to eat for my cycle, and what foods support my body best when dealing with this disease and its symptoms. This journey has changed my perspective of food, from a necessary evil, and one I preferred to avoid, to a wonderful part of living that nourishes me and helps me thrive.
This experience has simultaneously and quite naturally inspired a new approach to my body as well. I've gone on a long journey to learn to love the shape of my body, and also my womb space. How could I hate something that I was trying to heal?
Endometriosis inspired a career in charity
My first "career" was in fashion, running my own magazine. I moved on when I found I could no longer cope with the demands of a fast-paced industry. So, yes, endometriosis took one career away from me, but it also inspired another one.
While growing up, I suffered from severe hormonal ups and downs, which led to deep depression, an eating disorder, and chronic fatigue that left doctors perplexed. I was a bright student, and I wanted to do well, but I was always struggling with my mental health and what appeared to be physical weakness. I developed a deep compassion for anyone facing various disadvantages. Working in fashion, I saw how those who were physically and mentally strong could surpass the rest in a competitive industry, or indeed, in life.
So, it seemed natural to me that my next path would be working with people, and so the doors opened to a career in charity.
Endometriosis has motivated me to seek different kinds of adventure
I wrote a column about leaving the city with my partner for the coastal life, but our journey doesn't end there. At times, I have felt limited by my physical complications, especially the chronic fatigue aspect of endometriosis. Moving from place to place with a big rucksack inevitably exhausted me. And the six-month trip that I took with my partner showed me that the backpacking style of traveling wasn't for me.
Since then, we have been planning our great escape in a slightly different way. While we're at the coast, for the time being, we're also saving to buy and convert a van that will carry all our worldly possessions, as we drive around the globe and stay for as long as we like in each country. The slow travel movement has inspired us and helped us to carve out a plan to explore the world in a way that suits my body and me. We're so excited for our trip, and this different way of living; without endometriosis, we might never have thought about trying something so out of the ordinary.
Part two of this series, published next Thursday, explores how endometriosis has positively changed my spirituality, connection with others, and even my life's purpose.
***
Note: Endometriosis News is strictly a news and information website about the disease. It does not provide medical advice, diagnosis, or treatment. This content is not intended to be a substitute for professional medical advice, diagnosis, or treatment. Always seek the advice of your physician or other qualified health provider with any questions you may have regarding a medical condition. Never disregard professional medical advice or delay in seeking it because of something you have read on this website. The opinions expressed in this column are not those of Endometriosis News or its parent company, BioNews Services, and are intended to spark discussion about issues pertaining to endometriosis.