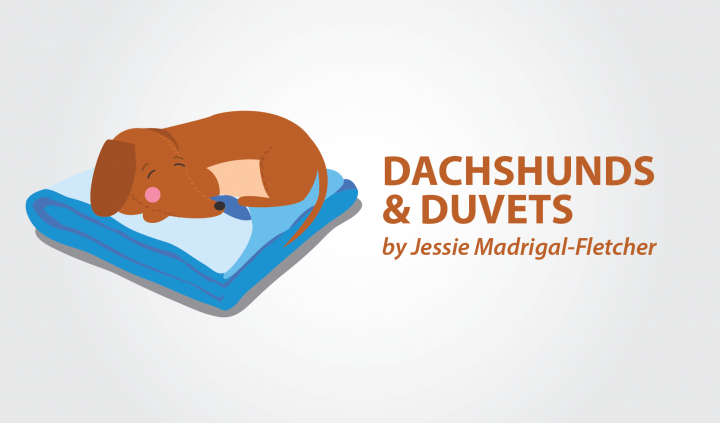 Endometriosis can be an isolating illness. While you get to meet myriad doctors and specialists, this chronic illness involves long periods of pain and fatigue. In my case, human interaction is severely limited for periods of time, especially if all I can do is grunt while barely keeping my eyes open. However, there's a furry twist to my story: I share my life with two sausage dogs, hence the title of this column. The youngest one is a powerhouse of misdemeanor and sock-stealing. The oldest chipolata thinks he's the size of a dragon and has to defend me from everyone and everything. The canine lifestyle works for me for a series of reasons:
Dogs are understanding supporters
Research has shown that dogs can smell chemical changes in humans. Mine seem to detect when I am unwell or experiencing a bad flare-up. They stick to me like glue or start acting up if I become very anxious. If they see me crying they rush to be as close to me as possible. Feeling supported during bad times can be essential to anyone suffering from a chronic illness.
They require you to function
Yes, they can be hard work, but they make me feel like I matter. My day is never wasted if I've walked and fed them, cleaned their teeth and given them some playtime. My dogs are my responsibility. Watching them thrive with the life I provide them gives me an incredible boost.
They are immensely therapeutic
My dogs force me to walk outside even when I'd rather stay in and hide. They have even become my running buddies, especially if you consider chasing your dogs while they run after rabbits a sport. Dog walking also means chatting with other people. This works as a reminder that, even with endometriosis, I can function as a social being.
Dogs never judge
I've lost friendships because of my limited social life. Yet my dogs only expect two things from me: food and love. Most importantly to me, my dogs don't judge my choice of Garfield pajamas as day wear.
Dogs will knock over your precious morning cup of coffee asking for a belly rub but will do so while giving you the most disarming puppy eyes. They will demand attention but are happy to get it under a warm blanket with you.
I understand that not everyone can have a pet. Picking up dog poop on the daily and being barked at occasionally is probably not for everyone. However, cats can be incredibly supportive, too, and so can rabbits, horses, and plenty of other animals.
Navigating this world with a chronic disease can be a constant battle for normality. My dogs give me a routine when endometriosis tries to trip me up, and they provide quiet, calming support. Sometimes they smell like a sewer, but that's what you get when your best friend is living their best life while rolling in Eau de Fox Poo.
***
Note: Endometriosis News is strictly a news and information website about the disease. It does not provide medical advice, diagnosis, or treatment. This content is not intended to be a substitute for professional medical advice, diagnosis, or treatment. Always seek the advice of your physician or other qualified health provider with any questions you may have regarding a medical condition. Never disregard professional medical advice or delay in seeking it because of something you have read on this website. The opinions expressed in this column are not those of Endometriosis News or its parent company, BioNews Services, and are intended to spark discussion about issues pertaining to endometriosis.