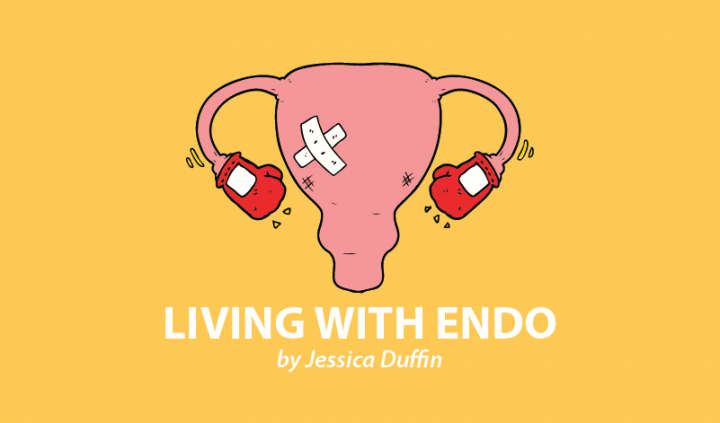 Endometriosis is about to hit a new level of awareness as we move into Endometriosis Month this March.
In the United Kingdom, we have Endometriosis Awareness Week, which runs March 3-11, and worldwide, we have the Endometriosis March on March 24.
I love this time of the year. I think it's essential, and having worked for an endometriosis charity, I find it really encouraging to see how it grows as time goes on. I also love how so many of us feel empowered to step up and share our stories or create campaigns.
Having said that, while awareness is important, one thing I would really like to see more during Endometriosis Month is an awareness about the management of endo. Many of the stories I see shared talk of the symptoms of endometriosis and the ridiculous diagnosis times we've had to endure — and yes, these are without question integral to progress. But I think what's equally important is sharing knowledge on how we can live happier and healthier lives with the disease, so it doesn't continue to affect the quality of our lives so drastically.
So, where to start?
Hold a meetup in your local area
If you're a people person, try having a local meetup. There's still a whole month to play with, so if you're worried about advertising, book it for the end of the month now so you've got a nice lead-up time.
Try booking a table in a café that serves endo-friendly foods to ensure those who are really sensitive to what they put in their bodies can also enjoy something to eat. Plant-based or vegan-friendly restaurants are usually a good option, as many do gluten-free options as well, and some also serve eggs and dairy for those who want it.
Use this meetup as a time to just enjoy the company of others who understand. Try to make the focus positive if possible, to leave people feeling uplifted afterward. Encourage people to share what works for them, suggestions for pain relief, endo diet tips, or even how to get a good night's sleep to help manage fatigue. Whatever it is, open it up to discussion and allow people to ask questions and seek guidance from others who have found methods of management that work. It's incredible what you can learn when you start these kinds of conversations.
Get your family and friends together for the Endometriosis March
The worldwide Endometriosis March is always bubbling with really wonderful energy. It's a fun day, and it's just so empowering to be a part of something you know so many others around the world are partaking in.
You could gather together with other endometriosis patients, or perhaps get your friends and family involved. This is a great opportunity for them to see just how necessary change is when faced with countless other women who share your story.
Make the lead-up to the event fun and interactive by designing banners or decorating T-shirts!
Show yourself some love
While it's awesome that we're raising our voices and shouting from the rooftops throughout March, it can be quite tiring and emotional. March could be a wonderful time to do some internal work and show yourself some love.
Many of us have broken relationships with our bodies due to the pain and anger we experience around endometriosis. Maybe this is your opportunity to begin making peace with our body and listening to your physical needs to help manage endometriosis better. Perhaps it could be as simple as finally downloading that period tracker and actually starting it, or maybe it's attending a weekly yoga class or following a yoga session on YouTube. If you want to do something really special, you could sign up for a workshop or event. There are lots of sister circles, goddess workshops, and menstrual cycle-related events going on these days, so check event sites and Instagram to see what's happening.
Celebrate successes
Social media can be a great place to vent, but it can also be a perfect platform for sharing good news stories and helpful information. Perhaps you could share your progress or the progress of others. Maybe you could highlight accounts that really help with endo, or perhaps you could talk about the progress science is making with endometriosis (granted, there aren't enough studies!). While it's awful that any of us have to endure endometriosis, I also think we're probably in the best time in history to be experiencing it, because of the progress we're making. We should celebrate that. We've worked hard to get to where we are, so embrace our success stories while raising awareness!
***
Note: Endometriosis News is strictly a news and information website about the disease. It does not provide medical advice, diagnosis, or treatment. This content is not intended to be a substitute for professional medical advice, diagnosis, or treatment. Always seek the advice of your physician or other qualified health provider with any questions you may have regarding a medical condition. Never disregard professional medical advice or delay in seeking it because of something you have read on this website. The opinions expressed in this column are not those of Endometriosis News or its parent company, BioNews Services, and are intended to spark discussion about issues pertaining to endometriosis.