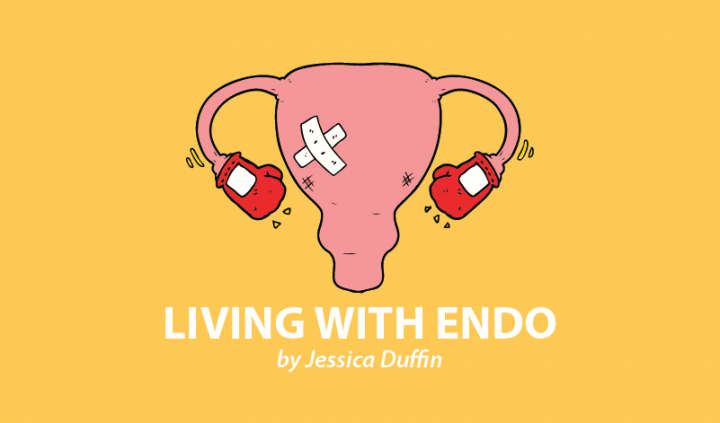 It's Endometriosis Awareness Month! I believe this movement is gaining momentum every year, and this year is no exception.
If this is your first Endometriosis Awareness Month, welcome to the gang. While being diagnosed with endometriosis is, of course, painful and difficult to come to terms with, Endometriosis Awareness Month is a time to take your power back, make new friends, and advocate for better treatment. While I'd argue that we now see the power of endometriosis warriors all month, every month, in March, you can particularly see the magnificent force of this community — and I'm proud to be a part of it.
In the following, I'll share ways for you to get involved for those who aren't sure where to start. Some of these activities can be done from your bed, while others require you to take to the streets. Choose what feels comfortable to you right now.
In the UK, contact your local MP or tweet Nick Gibb and Damian Hinds
Last week, I talked about the progress we've been making in the U.K., especially with Endometriosis UK's successful petition to have menstrual well-being taught in schools. Their success was prompted by over 100,000 people who signed a petition and took to social media to share their stories. Now, Endometriosis UK is headed to Parliament to begin finalizing what this new curriculum of menstrual well-being will look like in 2020. Leaders are asking us to help demonstrate to the U.K.'s government just how many lives they're changing with this new legislation by messaging MPs Nick Gibb and Damian Hinds on social media.
Check this Change.org petition for specific account handles for both MPs, depending on which social media platform you use. You can also screen grab a picture to share to show your solidarity with the campaign.
Additionally, you can tweet to your MP to urge them to attend Endometriosis UK's endometriosis awareness drop-in on March 12. Click here for more details.
'This Is Endometriosis' social media campaign
It's hard to forget Georgie Wileman's haunting photograph of her exposed stomach dappled with scars and marked with pen, listing the dates of her numerous laparoscopic surgeries for endometriosis. The photograph was part of her series, "This Is Endometriosis," and is now being recreated by thousands across the globe as part of Georgie's #thisisendometriosis social media campaign.
The Instagram campaign is part of Georgie's mission to demand better treatment and surgery for endometriosis patients.
Georgie says:
"An important reason why I do this work is to raise awareness of endometriosis, and the multiple surgeries that are performed for it. Too often, people with endometriosis are subjected to repeat operations that usually cause further damage and pain. Excision surgery with an endometriosis specialist is currently the best treatment for this disease. This surgery isn't covered by most insurance plans or healthcare systems internationally, this isn't good enough. Spreading this message is incredibly important to me. Without a fellow Endo friend telling me about excision, I would still be in a wheelchair due to pain from the disease.
"By asking people to date and connect their own scars, or lay with their heat pads, we can show the true extent of endometriosis, and the ultimate failings of our healthcare systems."
You can get involved with Georgie's campaign here.
#TooLong social media campaign
Last year, The Endo Coalition's #1in10 social media campaign went viral, demonstrating the huge impact of endometriosis on the lives of those who live with it, as well as their families, friends, and colleagues.
This year, the nonprofit group is making noise about lengthy diagnosis times, not only in the U.S. but also all over the world. The group is asking people to share a video with their name, where they're from, and how long it took to be diagnosed. While so many of us are well aware of the unacceptable diagnosis times, it's shocking to see so many come forward with diagnosis times spanning several years and even decades.
To get involved, watch these video clips.
Worldwide Endometriosis March
The EndoMarch is a global movement that started back in 2014 and has continued to grow in numbers and momentum ever since. On March 30, thousands will take to the streets across the world to demand shorter diagnosis times and better treatment options for endometriosis. Marches will be held in countries and cities all over the world, from Greece to Jamaica to the U.S and beyond.
Make sure you check the date of your local march, as some vary due to national holidays. Be sure to wear yellow!
***
Note: Endometriosis News is strictly a news and information website about the disease. It does not provide medical advice, diagnosis, or treatment. This content is not intended to be a substitute for professional medical advice, diagnosis, or treatment. Always seek the advice of your physician or other qualified health provider with any questions you may have regarding a medical condition. Never disregard professional medical advice or delay in seeking it because of something you have read on this website. The opinions expressed in this column are not those of Endometriosis News or its parent company, BioNews Services, and are intended to spark discussion about issues pertaining to endometriosis.