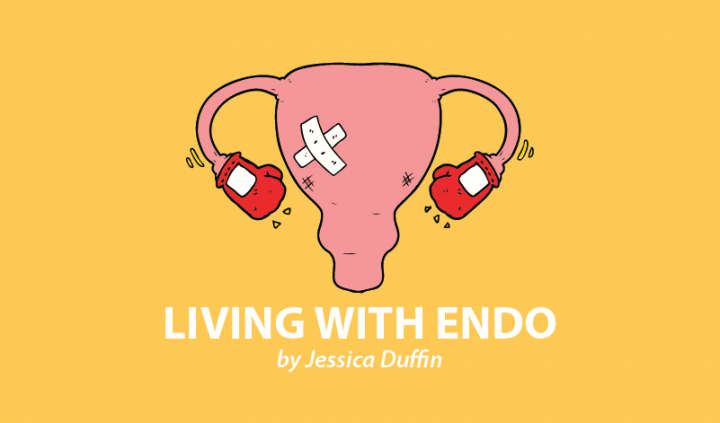 I was diagnosed with endometriosis about seven years ago. My diagnosis started me on a wild ride beginning with the denial of my condition and eventually leading me to fully embrace my life as an endo warrior and share my story to support others.
I embarked on my healing journey two years after my diagnosis, and at times I've been confused, frustrated, and overwhelmed. In the past year or so, I feel like I've perfected my endometriosis management. I can live relatively free from symptoms if I practice my tools and techniques (sometimes I fall off the wagon, and that's OK). It's taken five long years to get to this point. I wish someone had pulled me aside at the beginning and told me about the science and symptoms of this disease and how nutrition and self-care could help me. If I had known these things, my recovery could have taken months, rather than years.
Today, I'll share the methods, tools, and resources I've found to have the most impact on reducing my symptoms. While I hope you can use this list for your own endometriosis management, please remember that we're all different and what works for me may not work for you. But in the hope that some of these do, let's get started.
Supplements
I've spent a lot of money on supplements. While I still take a handful of supplements every day, the two that have made an incredible difference to me were turmeric supplements and a specifically designed endometriosis product, Endo Complex. The improvement occurred within one cycle – my pain went to near zero, aside from a few twinges. Now, I take these every day and my periods are – dare I say it? – normal.
I take turmeric to reduce inflammation, and though there isn't solid science behind this yet, it works for me. Endo Complex helps with hormone balance and liver detoxification, so it's nice to know I'm treating two significant causes of endometriosis: estrogen dominance and inflammation.
Understanding estrogen dominance
I learned about estrogen dominance this year, and I wish I had known about it sooner – given that I now have a breast cyst as a result of my body being estrogen-dominant. Endometriosis is a disease that thrives off estrogen. It also makes its own estrogen (like a super disease), and women with endometriosis are more likely to be estrogen-dominant. Estrogen dominance can cause myriad health problems and symptoms such as fatigue, mood swings, PMS, and headaches.
I now eat foods to reduce estrogen dominance and bring my hormones back into balance. If you're interested in how I do this, you can read more in my previous columns about the symptoms of estrogen dominance and how I manage it.
Diet
My diet has changed over time. I started with an anti-inflammatory diet, avoiding caffeine, sugar, dairy, gluten, fried foods, and red meat. (I'm vegan, but red meats are the most inflammatory foods.) I buy organic when I can afford to because of the disruptive effect of pesticides on hormones. Eliminating inflammatory foods from my diet took my pain from an eight or nine to a four.
While changing my diet made a big difference, I never fully managed to get on top of my pain and symptoms. Things began to shift when I started regulating my blood sugar and eating for my hormones.
I want to reiterate that what works for me won't necessarily work for you. But if you are interested in diet, I recommend reading "Take Control of Your Endometriosis" and "WomanCode."
Flowing with my cycle
Finally, the best lifestyle change I've made is to live in harmony with my cycle. I've always been a perfectionist, workaholic, and highly stressed individual. I've been white-knuckling life since primary school and ignoring my inner yearning to slow down and allow myself to rest.
When reading "Code Red," I discovered that women's hormones change daily. Our hormones follow a cyclical pattern that causes different behaviors and reactions in our bodies. Now I know when to slow down and when to take things up a notch, and my life is so much better for it.
***
Note: Endometriosis News is strictly a news and information website about the disease. It does not provide medical advice, diagnosis, or treatment. This content is not intended to be a substitute for professional medical advice, diagnosis, or treatment. Always seek the advice of your physician or other qualified health provider with any questions you may have regarding a medical condition. Never disregard professional medical advice or delay in seeking it because of something you have read on this website. The opinions expressed in this column are not those of Endometriosis News or its parent company, BioNews Services, and are intended to spark discussion about issues pertaining to endometriosis.