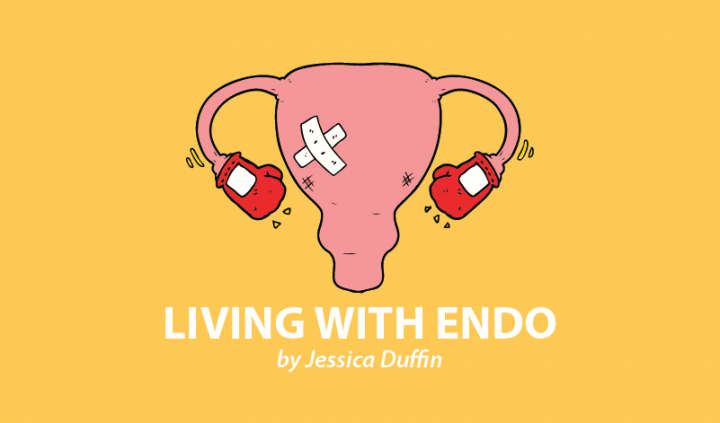 Have you ever found yourself struggling to remember words? Names? Or even what you were about to say mid-sentence? Me, too. In fact, yesterday, I was at an all-day business and networking event and found myself continuously stalling as I talked in groups about my business, while everyone sat around waiting for me to find my next word. Given that these people didn't know me or all the symptoms of endometriosis, I felt so humiliated that I was ready to leave the room in tears.
Everyone can forget things from time to time or just not feel as sharp as normal, but for many with endometriosis, this happens regularly, if not daily. This is generally known as "endo brain fog," and is linked to the chronic fatigue many of us suffer with, as well as the distractions and stress that can come with chronic pain, depression, and anxiety — all common traits of endometriosis.
Chronic fatigue and brain fog are probably two of my biggest battles with endometriosis. My diet and lifestyle choices have enabled me to live relatively pain-free, except during my period, but the endo brain fog and fatigue still are works in progress. And yet, I have created lifestyle changes that have really enabled me to live a far more normal life and improve my cognitive function in the past couple of years. There was a time when I couldn't stay at a job because endo brain fog was so severely affecting my ability to think straight and remember tasks that I was actually called into a disciplinary meeting. You can imagine how horrifying, humiliating, and painful that was.
Thankfully, I no longer find myself in situations like this unless I've overdone it (three busy days in a row led to yesterday's brain meltdown) or have slipped with a few of the routines I've created that help me. Over the years, with trial and error, the following steps and tips have helped me to reduce brain fog and see clearly again.
Consuming rosemary
A couple years ago, I started drinking fresh rosemary in tea and water and felt a notable difference. In fact, I used it to help me through most days at work. I fell out of the habit until the launch of Rosemary Water in the United Kingdom, which prompted me to recall how beneficial it was for me. While it could have been a placebo effect, there is now increasing research and evidence suggesting that rosemary does have a positive neurological effect, especially on memory. Inhaling rosemary essential oil or using the herb in tea or water could, in theory, help you battle the brain fog.
Prioritizing sleep
Sleep is undervalued in society but it shouldn't be. Sleep is essential for optimal function. In fact, lack of sleep can cause significant chemical and physical changes in the brain and lead to depression and anxiety, plus it affects memory, focus, and productivity.
This facet has to be the biggest influencer for my brain's function. I've had insomnia all my life, and I think it's highly likely it's linked to anxiety, chronic stress, and hormone fluctuations. Of course, many of us with endometriosis are kept awake due to the pain, but then there's the knock-on effect of anxiety. Stress can affect the adrenal glands and how hormone imbalances keep us up at night. I've learned to improve my sleep quality by taking magnesium an hour or so before bed for physical relaxation, wearing an eye mask and earplugs, and meditating or practicing gentle yoga to help me unwind.
Rethinking hydration
I recently listened to an interview with a neuroscientist that blew my mind. I drink A LOT of water. With the brain being largely made of water and needing hydration to function, it's essential we stay hydrated. So, why am I not the sharpest tool in the box?
It might be something to do with the type of water I'm drinking. Lisa Mosconi, PhD, explains in the interview with Jessica Murnane that water does not equal hydration. Water is just liquid, but to properly hydrate your body, you need the minerals that accompany fresh water sources. It's these minerals that properly hydrate the brain and allow it to function efficiently. Without this level of hydration, our brains are not able to send signals or carry out normal functioning and can even shrink in size.
Listen to the interview to find out more about water sources. A good way to ensure you're getting these minerals is through hydration salts. You can buy or make your own.
I'll be sharing more tips tomorrow, but I would love to know how you manage endo brain fog. Share in the comments below.
***
Note: Endometriosis News is strictly a news and information website about the disease. It does not provide medical advice, diagnosis, or treatment. This content is not intended to be a substitute for professional medical advice, diagnosis, or treatment. Always seek the advice of your physician or other qualified health provider with any questions you may have regarding a medical condition. Never disregard professional medical advice or delay in seeking it because of something you have read on this website. The opinions expressed in this column are not those of Endometriosis News or its parent company, BioNews Services, and are intended to spark discussion about issues pertaining to endometriosis.