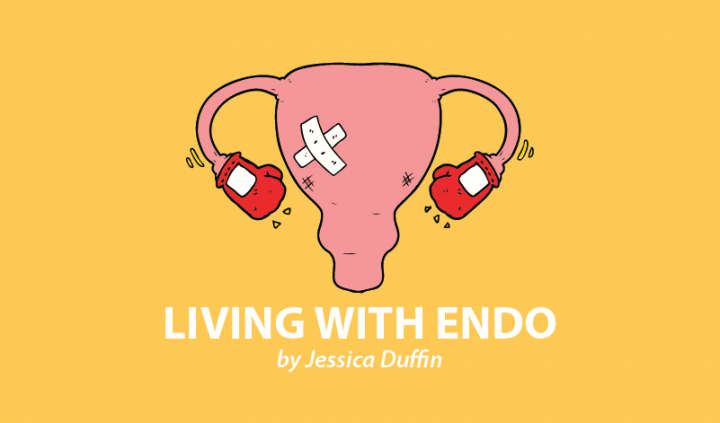 On Wednesday, I shared the many reasons I went vegan to improve endometriosis management. Today I want to go into more depth about how I did it because I know it can be a terrifying step. If endometriosis is making your life miserable, the last thing I want to do is make you feel even more miserable by encouraging you to eat a bland diet. I'm more creative and experimental with my food, and more excited by eating than ever before. If you embark on this journey, I hope you'll feel the same.
The sweet stuff
I'm starting with the most important things in life, because I'm a "look at the dessert menu first" kinda gal.
Firstly, be conscientious of the ingredients. A product isn't good for endometriosis just because it's vegan. My personal choice is through shopping for goodies at health stores like Whole Foods or Planet Organic. I go for raw chocolate (which, in theory, has more nutrients) and chocolates made with unrefined sugar and ingredients I understand. Some of my favorites are Raw Halo, Ombar, and Loving Earth.
A lot of vegan ice creams are now out there, but again, additives and sugar pack some of them. Try going for ones made from nuts, coconut, or avocado (for real). My favorite is Booja-Booja: Their ice creams are the best I've had and are readily available in the United Kingdom. If you're elsewhere in the world, check out their global partners page to see where you might be able to pick them up. Do some hunting in your local health stores to see what else is available to you.
Finally, if you like making your own desserts, I got started with Emily von Euw's insanely good creations. Her recipes are all plant-based and made with gorgeous ingredients.
The only thing to be mindful of here is sugar. If your endo is sensitive to sugar, or perhaps you're trying the entire endometriosis diet, you may want to be careful about how much you have. The endo diet calls for no refined sugar, but sugar is still sugar, so even the unrefined stuff can cause inflammation if you're eating lots of it. As always, go with what's right for you!
Cheesy goodness
What's life without cheese? I hear you.
If you're in the U.K., elsewhere in Europe, or in the U.S., VioLife is a really good option you can find in nearly all health shops and now in a lot of standard supermarkets. VioLife only uses plant-based ingredients like coconut oil and carrot concentrate, and has a huge range from mozzarella to blue cheese! My only concern is that they don't identify what's in their "natural flavorings," so opt for the organic versions of their products if you want to feel a bit more secure about what you're putting in your body.
VioLife melts really well, but Green Vie Foods takes it to the next level. The issue is that it's much, much harder to come by and I've only ever stumbled across it, so keep your eyes peeled!
If you're after something a little more artisanal, I discovered New Roots recently, and while I haven't tried it yet, they look amazing and have a Camembert and ricotta in their range. New Roots uses cashew nuts and probiotic cultures, so this is, in theory, a healthier version if you're not keen on the more oil-based vegan cheeses. There are plenty of other cheeses like this out there, so get on Google and see what's available near you.
Lastly, if you want to try making your own vegan cheese, I highly suggest checking out "This Cheese Is Nuts!"
Milk and yogurt
It's really easy to just switch to soy products when going vegan or dairy-free. But my suggestion is to do your research first. A lot of information is out there to suggest that soy isn't great for endometriosis, as it can heighten estrogen levels, and endometriosis thrives on this hormone. There are other reasons that soy may not be brilliant for us, but that's a whole other column!
So, my personal preference is nut milks and nut yogurts. As always, check the labels as some are full of gums that can cause a few irritable bowel syndrome issues. Other brands can be really high in sugar. My go-to's are Plenish for milk, as their ingredients are pure, and Nush or COYO for yogurt.
If like me, you need some foam in your coffee or matcha latte, I cannot recommend Oatly's Barista edition oat milk enough. You can find out on their website which coffeeshops use their milk, so you never have to have a bad flat white again!
Cookbooks
For home cooking, I love One Part Plant, Deliciously Ella, and Yum Universe.
***
Note: Endometriosis News is strictly a news and information website about the disease. It does not provide medical advice, diagnosis, or treatment. This content is not intended to be a substitute for professional medical advice, diagnosis, or treatment. Always seek the advice of your physician or other qualified health provider with any questions you may have regarding a medical condition. Never disregard professional medical advice or delay in seeking it because of something you have read on this website. The opinions expressed in this column are not those of Endometriosis News or its parent company, BioNews Services, and are intended to spark discussion about issues pertaining to endometriosis.