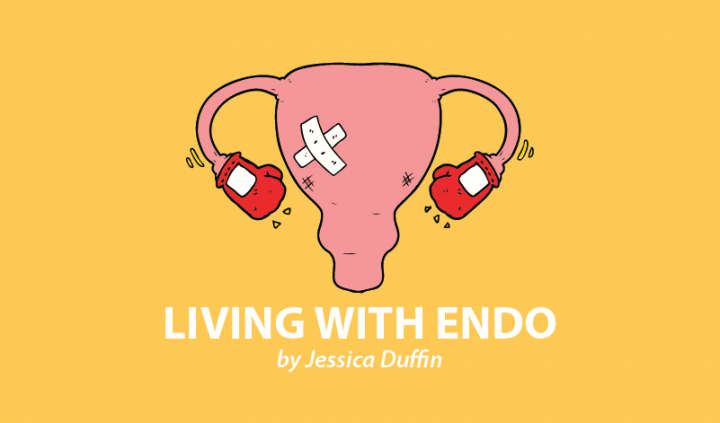 When you think about life with a chronic illness, it can be easy to see the condition as isolated. As a little bubble that drifts alongside you in life — you don't really cross into it. It can be easy for others to think you're "normal" — apart from your health, that is.
But the truth is, it can affect every area of your life. It's not just about doctor's appointments and medication and the endo diet. It's also about real-life things like paying for bills.
And that's what I want to talk about today. Money.
As women, we can be made to feel ashamed or awkward about money. We're notoriously underpaid, history has favored men when it comes to financial education, and financial services are often geared toward men. So what happens, then, when you find yourself living with a condition that affects your ability to go to work every day? And what happens when, on top of that, you've not had any kind of financial education and you don't have any savings?
That's the story of many women I know — and my own story.
About three years ago, I found myself at a breaking point while working for a good charity, earning an OK salary (but not enough to save while living in London), and paying rent. The option to stay, push through it, and wait for a break to earn a bigger salary just wasn't there. I was on my knees and couldn't do a full-time job anymore. That's when I moved to an endometriosis charity and transitioned to working three days a week to try to get better. While I gained more time, I dropped in salary by over £10,000 (about $14,000). It was scary, and I could only afford my bills. Nothing else.
The decision was a drastic one, but I felt that going to a charity — which aligned with my passion and understood what I was dealing with made sense — was worth it. I hoped I would heal by being somewhere I could make a difference and not work myself to the bone. Having said that, of course, the £10,000 drop was a massive risk, but I couldn't see any other way forward. I explored so many routes, and this seemed to be the best one.
I had no savings, my family had no savings, my partner had no savings. So, I got a credit card, and for that summer, I paid for my groceries and life and, ironically, four weddings, with that card. It was scary building up my debt, but at the same time, life isn't straightforward and there are millions of people in the world who also aren't confident in money, so I wasn't about to beat myself up over it. I did what I had to do.
Eventually, I had to leave the endometriosis charity, because I was still spiraling with my health and working with the condition, which was causing this spiral, was distressing and exhausting. I took up an office job because I no longer had the emotional energy to work in charity (and write for This EndoLife), and I thought it would give me a chance to do a job well while I got well. The salary took me back up to being able to pay for my food shopping and anything else I needed, but not enough to pay off my debt or save.
Fast forward two years later, and I'm now freelance, working partly for myself at This EndoLife, and partly for clients creating content. I am still in a similar situation salary-wise, but most importantly, I am much, much healthier and I can work my hours around what suits my body.
Now that I'm in a space where I can actually think straight, I'm beginning to work on my financial health. The truth is, if I could have afforded to take even just one month off three years ago, I think a lot of the pain, drama, and stress I went through could have been avoided. Maybe I would have gone freelance sooner, maybe I would have recovered from my surgery more successfully, and maybe I would have gotten a grasp on my mental health more quickly.
But I didn't have that financial backup and the reality is, many of us don't, and many of us can't always start saving.
And so I'm vowing to change my financial situation. I've begun educating myself on saving, paying off debts, and earning more as a woman in a male-dominated society. It's not easy, and I keep stumbling, but I can see progress.
In my next column, I'm going to take you through the steps I'm taking to improve my financial health, so I never have to be in that situation again.
***
Note: Endometriosis News is strictly a news and information website about the disease. It does not provide medical advice, diagnosis, or treatment. This content is not intended to be a substitute for professional medical advice, diagnosis, or treatment. Always seek the advice of your physician or other qualified health provider with any questions you may have regarding a medical condition. Never disregard professional medical advice or delay in seeking it because of something you have read on this website. The opinions expressed in this column are not those of Endometriosis News or its parent company, BioNews Services, and are intended to spark discussion about issues pertaining to endometriosis.