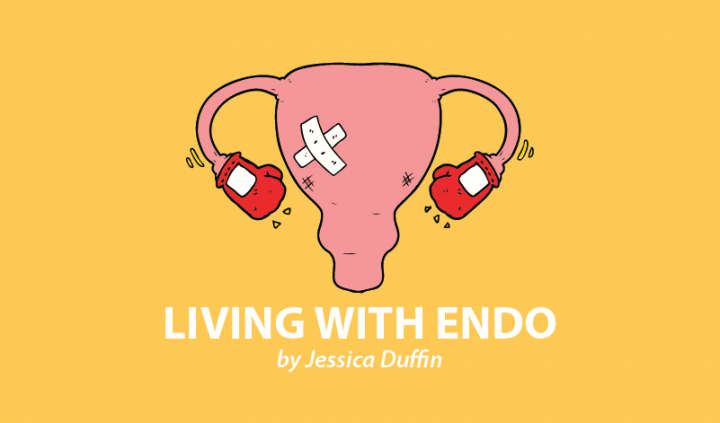 It's likely that you've seen the news about Lena Dunham in the past week or so. In case you haven't: Dunham is recovering from a total hysterectomy. A hysterectomy is a surgical procedure in which the cervix and uterus are removed, yet the ovaries and fallopian tubes remain.
The actress, writer, producer, and director has battled with endometriosis for many years and has documented her incredibly lengthy and painful battle with the disease. Additionally, Dunham had numerous other problems with her uterus, which was confirmed when the doctors were able to examine it following the hysterectomy. Dunham wrote a heartfelt, raw piece in Vogue about her decision to have a hysterectomy:
"My uterus is worse than anyone could have imagined. It's the Chinatown Chanel purse of nightmares, full of both subtle and glaring flaws. In addition to endometrial disease, an odd humplike protrusion, and a septum running down the middle, I have had retrograde bleeding, a.k.a. my period running in reverse, so that my stomach is full of blood. My ovary has settled in on the muscles around the sacral nerves in my back that allow us to walk. Let's please not even talk about my uterine lining. The only beautiful detail is that the organ—which is meant to be shaped like a lightbulb—was shaped like a heart."
Despite her struggle, the story has been met with confusion, anger, and aggressive, troll-like comments and behavior.
The confusion seems to have arisen from members of the media making claims that a hysterectomy is a cure for endometriosis, which we know it is not. Yet, that doesn't mean it cannot help some people manage endometriosis or other gynecological conditions. The media will always jump on the most sensational stories they can, but that doesn't reflect the thoughts or words of Dunham even though the backlash has been directed her way.
I've scoured the article for words that could be misinterpreted or even plainly state that the procedure is a cure. I can't find any sign of this. In fact, Dunham states in her piece that, "I know that a hysterectomy isn't the right choice for everyone, that it's not a guarantee that this pain will disappear. …"
So I followed the article that Vogue links to at the end of Dunham's piece, "Why Lena Dunham's Choice to Get a Hysterectomy Matters to Women with Endometriosis." I thought perhaps this was the culprit, but again I found otherwise: "There is not yet a cure for endometriosis, but there are measures that can be taken to help minimize symptoms," it stated.
The writer goes on:
"It's true: Even when the uterus is removed, remaining tissue or lesions on other organs can still cause inflammation and pain over time. Other treatment options can happen during laparoscopy, where the surgeon can choose to remove or destroy lesions and scar tissue, though pain often returns after a short period of relief."
It saddens me that others in our community have chosen to vilify Dunham as being irresponsible, as not having tried hard enough, as claiming hysterectomy is a cure. Perhaps the internet has become an echo chamber, perhaps people have seen headlines but haven't read her piece, or perhaps people are struggling internally with their own endometriosis complications and it affected their perception of Dunham's story.
We're all aware of the many endometriosis myths out there, and rightly so, we all want to correct them so that newly diagnosed women, or those who are new to endometriosis treatment, don't fall under the impression that there is a cure. We all respond differently, but there are ways to manage endometriosis that can work for some of us. However, for others like Dunham, they may have tried everything and yet still experience crippling pain daily. Who are we to say that they must endure it any longer? Who are we to say that they haven't tried hard enough? Who are we to say they can't make a decision about their own body? And finally, who are we to judge them when they choose their own management of endometriosis?
I have read Instagram posts, articles, comments, and more that insult Dunham's work, personality, and choice. It's not about whether or not you like her, or at least, it shouldn't be. This is about a woman, an endometriosis sufferer just like you and me, doing the best she can to find a way to cope with the disease. And like many of us, she has shared her story to generate awareness of what we go through.
Famous or not, we're all part of this community. Let's continue to empower and support each other.
***
Note: Endometriosis News is strictly a news and information website about the disease. It does not provide medical advice, diagnosis, or treatment. This content is not intended to be a substitute for professional medical advice, diagnosis, or treatment. Always seek the advice of your physician or other qualified health provider with any questions you may have regarding a medical condition. Never disregard professional medical advice or delay in seeking it because of something you have read on this website. The opinions expressed in this column are not those of Endometriosis News or its parent company, BioNews Services, and are intended to spark discussion about issues pertaining to endometriosis.