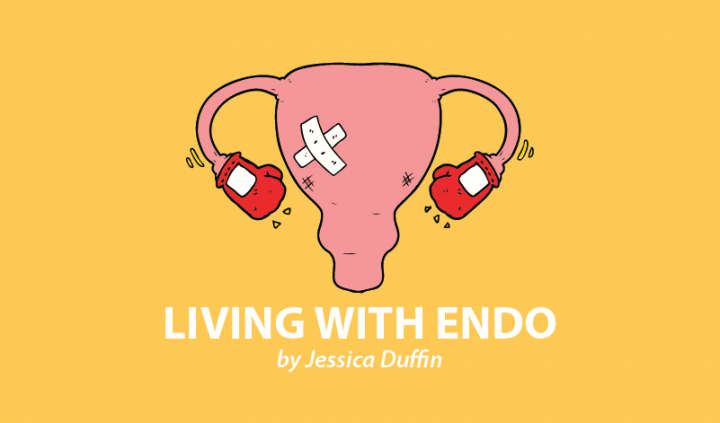 I've always had quite an up-and-down relationship with my skin. When I really look after it, it can be clear and evenly toned, and sometimes get me a compliment or two! But those times are few and far between.
Most of the time, at the age of 30, I'm battling hormonal skin and inflamed, sensitive skin. I have rosacea, which can cause redness on the nose, cheeks, forehead, and chin. It can also cause flakiness and pimples. Luckily, I found a routine that keeps it down to the point of being nearly nonexistent. But I also have hormonal issues, so my skin can break out two weeks before my period. These breakouts can last into and after my period. This basically leaves me a week-long window for good skin. Sigh.
Endometriosis has been linked to acne because of hormonal imbalances and also common sensitivities that endometriosis patients often experience.
Hormonal acne can affect anyone who has an imbalance in their hormones or an underlying hormonal condition. It can also arise temporarily before or around your period. Hormonal acne may take several forms, including:
Hormonal adult acne, which typically forms in the lower part of your face. This includes the bottom of your cheeks and around your jawline.
For some, hormonal acne takes the form of blackheads, whiteheads, and small pimples that come to a head or become cysts.
Cysts that form deep under the skin and don't come to a head on the surface. These bumps are often tender to the touch.
Sensitive skin conditions are also a common issue with endometriosis sufferers, and it's likely because of the inflammation in our bodies. (I'm not a doctor, but this is my understanding.) I wrote a much lengthier piece on this subject on my blog. My research discovered that "rosacea, psoriasis, and dermatitis are all inflammatory conditions, and endometriosis has been linked to other inflammatory conditions in the body. A study in 2002 found that women with endo were more likely to have inflammatory diseases such as eczema and allergies."
So what can we do about it?
Natural products
Many of the products on the market are full of chemicals and toxins that can affect our hormones. The harshness of these ingredients can often worsen skin conditions over time because of stripping the body of its natural oils and aggravating the skin with perfumes or other ingredients.
Going natural can be costly and take some time, but it'll alleviate your body's reaction to toxins, which can mess up your hormones and put extra strain on the liver (which is needed to remove old hormones). Additionally, the ingredients are usually much gentler and better suited for inflamed and sensitive skin.
I've spent years trying to find good products that are actually natural and affordable, and have also paid the price of making some mistakes with my wallet and my skin. So, to make it easier, my favorites are Skin & Tonic and Nini Organics. I also really like Pai (though a bit more pricey) and Green People for its sensitive range. Additionally, I use green tea as a toner for my face as it's really soothing for aggravated skin.
Liver support
The liver is the organ that filters out old and excess hormones and helps balance your body's chemistry. Supporting your liver will not only help your skin to be a bit calmer, but also can help manage endometriosis by removing excess hormones that encourage endo growth.
Helping your liver means not overburdening it with too many toxins to filter out — things like chemicals from body and household products, alcohol, caffeine, drugs, etc. We can also support the liver with the food we eat: beets, broccoli, greens, and cauliflower are often recommended.
Self-love
A big one for me is self-love. You can look at this in two ways: If you tell your skin how horrible it is, some energetic theories suggest that your mind and body will respond to that, and it will become the thing you're telling yourself it is. The second argument is that when we're in a negative state, we're not always going to be making the right choices to support ourselves. I know that when I'm in a state of self-loathing, I tend to destroy my skin further by picking at it and not caring for it well.
Try to be kind to your body. Send it some love and your mentality will most likely change how you deal with your skin. A little self-love goes a long way.
***
Note: Endometriosis News is strictly a news and information website about the disease. It does not provide medical advice, diagnosis, or treatment. This content is not intended to be a substitute for professional medical advice, diagnosis, or treatment. Always seek the advice of your physician or other qualified health provider with any questions you may have regarding a medical condition. Never disregard professional medical advice or delay in seeking it because of something you have read on this website. The opinions expressed in this column are not those of Endometriosis News or its parent company, BioNews Services, and are intended to spark discussion about issues pertaining to endometriosis.