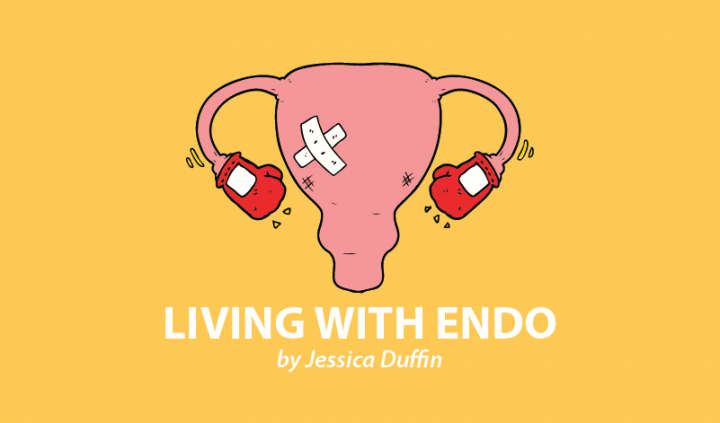 A couple of days ago, Endometriosis News released new data from a medical study in Taiwan that shows that "women with endometriosis have nearly four times the risk of developing bladder pain syndrome/interstitial cystitis (BPS/IC)."
As I lie in bed last night, with my bladder being its usual self, which is painful and seemingly always full, I realized it was about time I addressed interstitial cystitis in my column.
Since adolescence, my bladder has always played up. I usually have to go to the toilet up to 20 times a day, and if I don't go when I need to, I feel pressure and pain in the area. If I hold out too long, that pain remains after I've gone, almost like an echo or a memory of how full my bladder was.
I've been to the doctors and the hospital for this many times pre-endometriosis diagnosis, and I've been given antibiotics for water infections and kidney infections I was never tested for. I've been sent to the sexual health clinic more times than I can count and I've been given exercises to strengthen my pelvic floor region (though that's not bad advice).
Since my endometriosis diagnosis, I've been confused by the continual bladder pain I get, despite endometriosis not being found in that area of my body. Doctors have dismissed it, often stating that it has nothing to do with endometriosis — they just leave the problem there.
It was only when I interviewed Heather Crosby of YumUniverse about life with interstitial cystitis that I recognized the symptoms, did some research, and connected the dots (and finally got diagnosed, too!).
This new study is not the only research suggesting a link between endometriosis and interstitial cystitis. Endometriosis.org has an entire page dedicated to interstitial cystitis and the link between the two chronic conditions. In fact, they report that studies have shown 80 to 90 percent of women with endometriosis have interstitial cystitis, with IC labeled the "evil twin" of endo.
So, how do you know if you have interstitial cystitis and what can you do about it?
The symptoms of interstitial cystitis can often be confused with endometriosis pain, especially as many patients with IC report the pain becoming worse around their period (this is also my personal experience). However, common symptoms are pressure and pain in the bladder, often when the bladder is filling or full; abnormal bladder frequency, anything more than seven times a day; pain around and in the bladder during sex; and chronic pelvic pain and sharp shooting pain from just below the belly button.
Diagnosis can be made through a cystoscopy and treatment options vary, though it is chronic and people respond differently to each treatment. Medical intervention includes options such as cauterization and botox injections, but you could also opt for alternative therapies such as physiotherapy, bladder retraining, and psychological therapy.
Personally, though I haven't tried all options, diet has worked very well for me (when I actually stick to it). Common triggers are caffeine, alcohol, and tomatoes. I always notice the difference when I cut these items down or out completely, and I definitely notice them when they sneak back in! You could follow a set diet or avoid the most irritating foods, but it could be wise to keep a diary and make a note of your pain patterns so that you know which are your most significant triggers. Cutting the main ones out may give you the relief you need, instead of following the entire list of triggers.
Thankfully, the increasing research and evidence behind the link between endometriosis and interstitial cystitis are beginning to put pressure on doctors to investigate and diagnose both conditions at the same time. This will hopefully reduce years of confusion and suffering, even post-endometriosis diagnosis.
Let's hope 2018 brings even more research and change for the endo and interstitial cystitis community.
***
Note: Endometriosis News is strictly a news and information website about the disease. It does not provide medical advice, diagnosis, or treatment. This content is not intended to be a substitute for professional medical advice, diagnosis, or treatment. Always seek the advice of your physician or other qualified health provider with any questions you may have regarding a medical condition. Never disregard professional medical advice or delay in seeking it because of something you have read on this website. The opinions expressed in this column are not those of Endometriosis News or its parent company, BioNews Services, and are intended to spark discussion about issues pertaining to endometriosis.